Chinese Embassy in FSM Sponsors Pohnpei Activities in Education, Sports, Youth and Women Empowerment
2021-07-05 11:59
During recent months, the Embassy of China in the FSM has provided donations to a series of youth, sports, education, women and cultural activities in support of the local people in Pohnpei and its municipalities. These activities include: Pohnpei State Education Day, Sokehs Rebellion Day Commemoration fun Walk and sports tournament, U Municipal Constitutional Games, Women's Sewing Project of the Mochulok Community Association, PICS High School Graduation and Cultural Day event, etc..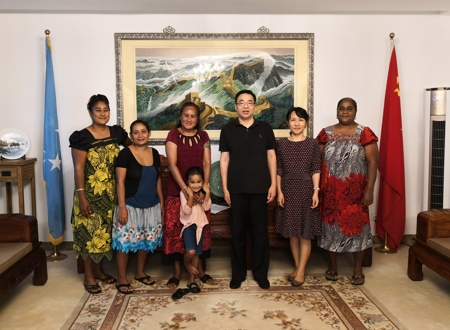 Ambassador Huang Zheng attended some of the hand-over functions and met with the recipients of the sponsorship. Expressing the Chinese Government and people's dedication towards FSM's sustainable development and its people's well-being, Ambassador Huang recalled that during the 32 years of the China-FSM diplomatic relationship, China has provided sincere and selfless help to the FSM, aiding the FSM's development in various fields. He reaffirmed that China gives special attention and care to youth and education development as well as the rights of women, elders and children among other vulnerable communities. The Chinese Embassy hopes that this series of donations towards the "small but significant" projects in fields of youth, athletics, culture, education, women and more will support the healthy growth of FSM youth, the capacity building of FSM women, the development of the education sector and the preservation and inheritance of Micronesian culture. China believes in working hand-in-hand with the FSM people to build a community with a shared future for humanity.
The departments, schools and organizations and other recipients of the donations expressed their gratitude through letters or certificates of appreciation. They offered high remarks on China's aid on FSM's socioeconomic development and civil livelihood improvement and expressed hopes for more fruitful cooperation to come stemming from FSM-China's Great Friendship.